Sunil Grover Starrer Film Pataaka : First Look Out : Vishal Bhardwaj is back with his New directorial Movie , "Pataaka", is all  about two warring sisters.
"Dangal" starrer Sanya Malhotra, TV actor Radhika Madan   comedian / Bollywood Actor Sunil Grover Are in the Main  leads , Film Will  release on September 28 .. Clash  With Varun 's Movie Sui dhaaga .. Vijay Raaz also in the movie .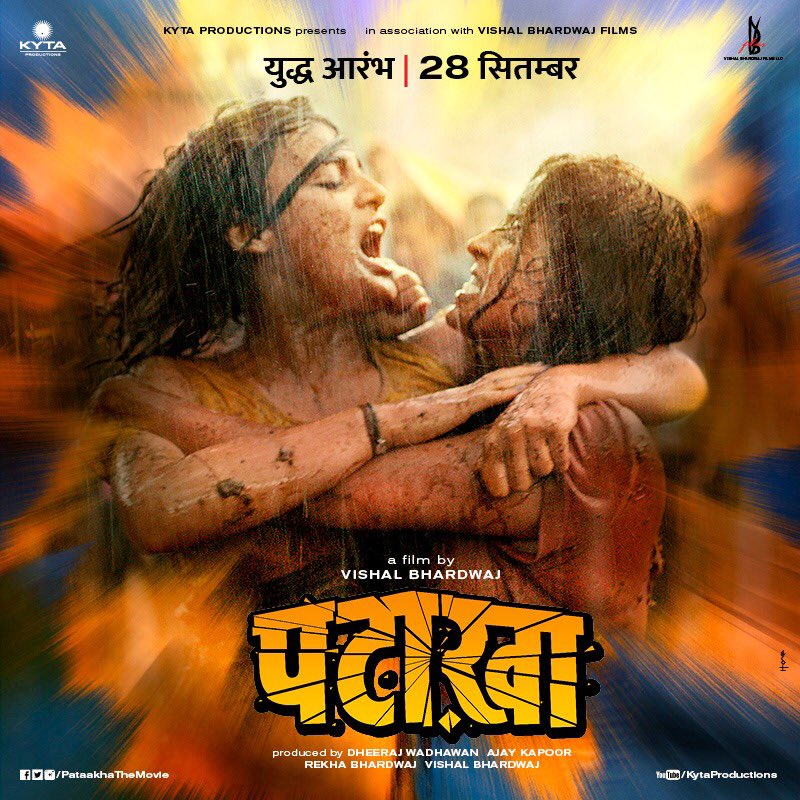 The Story Will  revolves around two sisters, Badki & Chhutki, who grow up in a very small village in Rajasthan and are continuously at war. But when marriage separates them, they realise they can't seem to live  without each other ..
As per Sources , the director himself confirmed the reports by saying that 'Pataakha' will release in this September and they have completed the shoot of the first half of the film. The director also said that they are left with only 12 days of shoot and will leave for Mount Abu on June 29 for the final schedule.
https://directordada.com/fanney-khan-teaser-released-today/
Ajay Kapoor also said
Meanwhile, the National award-winning filmmaker is all praises for debutante Radhika Madan. He said "she is fantastic" and the relation between Radhika and Sanya is "phenomenal".
The director recalls a fight scene from the movie which was recreated in the most real manner by these two actresses.  did like a real fight and hit each other. He said they had started shooting for the movie with the scenes before the marriage of the girls and then, shifted to four years later where the girls have a child each. The actresses had to gain eight to ten kgs.
Bhardwaj also praised Sunil Grover by saying that "He's the Narad muni of the film who instigates the fights between the sisters".
The film is produced by Ajay Kapoor, who is ready to collaborate with Bhardwaj after a long time.
"He's a big brand and I love his cinema. And when I heard the script from him, I fell in love with it. This is different genre," Kapoor said.
दो बहनें। युद्ध आरम्भ 28 सितंबर।
Do Behnein. Yudh Aarambh 28 September!
#DeerajWadhawan @ajay0701 @KytaProductions @rekha_bhardwaj @sanyamalhotra07 @radhikamadan01 @WhoSunilGrover #VijayRaaz @PataakhaMovie #पटाख़ा #Pataakha pic.twitter.com/SGV4IgYsPY

— Vishal Bhardwaj (@VishalBhardwaj) June 25, 2018